Empower your business with our Business Success Programme.
We are a prominent progressive company of consultants with offices in Dublin and Cork which assist aspiring companies to improve profit growth and value of their business and acquire various standard certifications, ISO certification for meeting the specific project demands. Our company comprises of industry leaders that provide end to end services in the area of various quality certifications such as ISO 9001:2015, ISO 14001:2015, ISO 45001:2018, ISO 27001:2013, ISO 22001:2005 (HACCP) , ISO 17100, GDPR and more.
In 2018 ISO Competitive Edge worked with multi-nationals and single owner operator businesses working in the heart of technology and industry. Hanley Energy continue their certification to ISO 9001, ISO 14001, ISO 27001, ISO 50001 & ISO 45001:2018.
Containment Service Providers Co Ltd is delighted to announce that the company have recently been granted certification to I.S. EN ISO 9001:2015 standard. The certification comes as CSP recently passed a series of audits.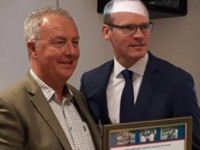 Simon Coveney pictured presenting the ISO certificate.
ISO Competitive Edge has been successfully providing business growth and management systems and auditing services in Ireland & the UK for over 25 years.
Our vision is to provide specialist services to clients in an efficient manner. We deliver simple and practical solutions.
Our management auditors and consultants are client driven understand business process.
Our clients benefit from our experience, knowledge, insightful business solutions and strategic support.
We assist senior management staff and business owners in delivering business management solutions in a broad range of industries.
Please contact us for a breif of our team.   info@isoceltd.com
The Scope of our Work could include the following:
Study of the present systems in the organisations
Identifying the relevant systems and processes that could form part of the ISO system
Determining the gaps in the present system with reference to the requirements of the ISO standards
Drawing up time-bound plans to bridge the gaps
Training a group of team leaders in the organisation on the ISO methodology
Preparation of all required documentation to suit the Standards
Arranging and coordinating systems audit and certification
Team
We have a team of expert professionals that have sound knowledge of consulting and analytical skills that help us in meeting the exact needs of our clients. Besides this, our consultants closely work with our clients and help them optimise their resources and implement necessary improvements in their infrastructure facilities that meet the stringent standards of prestigious certifications. We have a 99.6% sucess rate in getting companies certified.
For testimonials of recent work which includes Government and both large and small organisations in Ireland & the UK, click here.