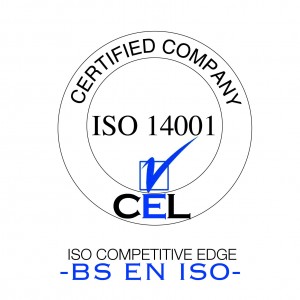 Click Here To Call from Smartphone 016690581
An ISO 14001:2015 certificate proves that your Environmental Management System has been measured against a best practice standard and found compliant.
ISO 14001 certification lets customers know they can trust you are actively minimising the environmental impacts of your company's processes, products, and services.
The internationally recognised ISO 14001:2015 Environmental Management System standard is generic. It is applicable to any type of organisation in any industry sector. Created by the International Organisation for Standardisation, it is based on the two concepts of continual improvement and regulatory compliance.
ISO 14001 training – ISO 14001 certification
ISOCEL will help you identify strengths, weaknesses, and improvement opportunities. Our auditors assess how well your Environmental Management System supports the areas of greatest risk to you, in addition to measuring compliance against elected standard.
Environmental policies are good for business. Properly practiced and clearly communicated they improve customer and public relations. But concern for the environment commands much more than goodwill. It delivers important cost savings. Better uses of energy, careful selection of raw materials and controlled recycling of waste products all contribute to the bottom line, securing vital competitive advantage.
Proof of a responsible approach is fast becoming a key purchasing criteria. Environmentally aware organisations prefer to do business with like minded companies, those who demonstrate their commitment through the internationally recognised ISO 14001 standard. With new legislation focusing on creating a cleaner world, this trend is set to continue. The principles of simplicity and the application of ordinary common sense are particularly pertinent to ISO 14001 and documented procedures are only required where their absence could lead to deviations from the environmental policy and the objectives and targets. Similarly the extent of documentation and the resources dependent on it will relate to the size of the organisations and the nature of its activities.
ISO 14001 Certification will increase your chance's of becoming a preferred supplier.
For further details click here
Transition Services for the ISO 14001:2015 Revisions
The International Organisation for Standardisation (ISO) normally reviews standards every five to ten years to ensure that they are relevant to changing market demands. The publication of ISO 14001:2015 was published on 15 September 2015.
What's new?
Annex SL (the new high level structure and common text for all new and revised ISO standards) is the single biggest change to the ISO 14001:2015 document. Annex SL is driving the incorporation of the EMS into the strategic thinking of the organisation and increased responsibilities on the leadership of the organisation in relation to the EMS.
Other topics that are new to ISO 14001 include: a] organisational context (clause 4), b] risk based approach (clauses 6 and 10), c] scope and applicability (clauses 4.3 and 1), d] documented information (clause 7.5), and e] life cycle perspective and control of outsourcing (clause 8).
What's been revised?
Amongst the areas of the standard that have been revised or now contain more specific information, organisations should pay attention to a] increased emphasis on top management engagement with ISO 14001 (clause 5), b] policy (clause 5.2), c] communication (clause 7.4), d] documented information (clause 7.5), e] performance and evaluation (clause 9), and f] management review (clause 9).
What does ISO 14001:2015 mean for my organisation?
ISO 14001:2015 has been published in September 2015. From this point, organisations will have three years from publication to successfully complete transition to the new standard, so they can choose to transition at any point within this period.
Some may choose their next certification cycle, although many will want to be 'among the first' given the increased flexibility and value that ISO 14001:2015 will deliver, along with the bonus of a clear commitment to best practice being demonstrated to their interested parties.
How ISOCEL can help?
Our range of ISO 14001:2015 services includes gap analysis, training, including in-house management briefings and transition planning and facilitation workshops, and assessment, all of which are designed to make your transition to the new standard as seamless as possible. ISOCEL's services are tailored to your organisation, your people and your systems, providing you with a better understanding of how these relate to your future business performance.