ISO 14001 Certification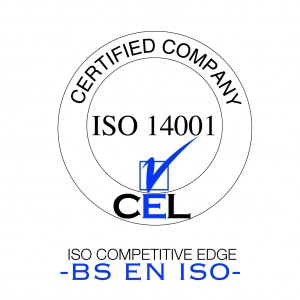 Click Here To Call from Smartphone 016690581
An ISO 14001:2004 certificate proves that your Environmental Management System has been measured against a best practice standard and found compliant.
ISO 14001 certification lets customers know they can trust you are actively minimising the environmental impacts of your company's processes, products, and services.
The internationally recognised ISO 14001:2004 Environmental Management System standard is generic. It is applicable to any type of organisation in any industry sector. Created by the International Organisation for Standardisation, it is based on the two concepts of continual improvement and regulatory compliance.
Iso 14001 training – Iso 14001 certification
ISOCEL will help you identify strengths, weaknesses, and improvement opportunities. Our auditors assess how well your Environmental Management System supports the areas of greatest risk to you, in addition to measuring compliance against elected standard.
Environmental policies are good for business. Properly practiced and clearly communicated they improve customer and public relations. But concern for the environment commands much more than goodwill. It delivers important cost savings. Better uses of energy, careful selection of raw materials and controlled recycling of waste products all contribute to the bottom line, securing vital competitive advantage.
Proof of a responsible approach is fast becoming a key purchasing criteria. Environmentally aware organisations prefer to do business with like minded companies, those who demonstrate their commitment through the internationally recognised ISO 14001 standard. With new legislation focusing on creating a cleaner world, this trend is set to continue. The principles of simplicity and the application of ordinary common sense are particularly pertinent to ISO 14001 and documented procedures are only required where their absence could lead to deviations from the environmental policy and the objectives and targets. Similarly the extent of documentation and the resources dependent on it will relate to the size of the organisations and the nature of its activities.
ISO 14001 Certification will increase your chnaces of becoming a prefered supplier.
For further details click here
Case Studies.
Jack Cuthbert's Bakery, Co Cork, Ireland 
Jack Cuthbert's bakery has been baking many different types of handmade bread such as Artisanal breads, traditional Irish breads, French breads, Polish breads and health breads, for many years in Cork. The company currently employs 25 people at its base in Midleton, Co. Cork.
With the aim of making significant environmental savings the company focussed on energy reduction, waste minimisation, water conservation and logistics optimisation. Through the project, economic savings in excess of €47,000 were achieved.
Key achievements:
1) Energy: 0.03kW of electricity saved per unit of bread produced, equating to 18.5% reduction in electricity consumption between 2010 and 2011.
2) Logistics optimisation: optimisation resulted in saving of 13.48t CO2 (or €41,800) p.a.
3) Waste: 24t waste diverted from landfill p.a. (savings €3,800)
4) New products: two new products developed, with new markets.
5) Water: reduction of 433m3 of water per annum.
6) Staff training & awareness: increased staff awareness and involvement in environmental improvements within the day to day operations of the company.
Dawn Meats, Ireland
Dawn Meats, part of the Queally Group, is one of the largest suppliers of Irish and British beef, Irish and British pork, Irish and British lamb. The group processes in excess of 500,000 cattle and 750,000 lamb per year, from which it produces 200,000 tonnes of added value meat products.
Dawn Meats plant in Ballyhaunis, Co Mayo targeted water, energy and packaging savings.
Key achievements:
1) Over 10,000 m3 p.a. reduction in water consumption across the site (34% saving)
2) €25,000 reduction in oil consumption, due to water reuse & conservation and refrigeration heat recovery
3) A reduction of 166t (or 10%) of cardboard usage, by applying eco-design principles to product packaging and implementation of reusable returnable packaging
4) Logistics – reduction of up to 85 truck journeys due to packaging redesign
5) Staff were trained in eco-design techniques for packaging and water minimisation
6) Packaging minimisation and energy saving initiatives have been rolled out to other company sites
ISO 14001 training and or certification will help you to understand and learn more about the environment and safety within the environment. This type of training will allow you to gain an ISO 14001 certification which is ideal if you would wish to further your career in the environmental industry. A course of this type will thoroughly cover ISO 14001:2004 which allows you to establish and maintain an Environmental Management System (EMS)
If you work in a business that has a reputation to uphold in the environmental industry, allowing employees to take up the training and receive certification can have great and many benefits to both you and your business.
ISO 14001 courses can help to enhance both an employee and the business that they work on, it can also open up many doors into further careers allowing the individual to enhance themselves for the future. Even though receiving full training may be stressful and lots of hard work for all involved it can help to build up an individual's CV and career whilst also enhancing the business they work in.